Lead by Warren Fischer and Casey Spooner, this group of dancers, singers and actors put on a show which is part glam part strip show with a hint of cabaret smothered in fun sauce.
Artandleisure traveled all the way from New York to Berlin to catch one of their shows and it was worth every penny.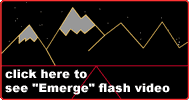 You may never know what they are doing or why they are doing it but you are sure to enjoy it.
Click on the images to the right to see pictures from previous shows-->
Order a Fischerspooner C.D. online from OtherMusic.com
Download these MP3s to listen and trade with your friends
And check out Fischerspooner.com for more MP3s and info.
Casey Spooner is a former member of the Doorika theater group.