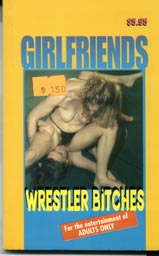 previous
next
"'You still in there, Lover?' she queried as she rose beside the male wrestler.
Stan came to slowly and heard the taunting girl's voice as if it were in a deep well. He shook his head, and came back to reality as she pushed on his belly and watched him gulp in fresh air. For long, gasping moments he couldn't force his vocal cords to work.
'You got me, babe' he said at last. 'First time in years. You do know how to wrestle, I'll give you that--'"